Sunday August 29th to Sunday Sept 5th, 2021
Join Christian,  a yoga teacher from Hot Yoga Malmö, and Paola a native Sicilian for a 7 nights of not just Yoga but also a Sicilian Adventure!
A Typical Day
Yoga Sessions and breakfast
07:00. We will start the morning with a yoga session
09/09:30. Breakfast times starts after the yoga session on the Terrace overlooking the sea.
The Daily Excursions
10/10:30 – 18:30 Adventure time ! Various excursion of the day: the beaches, Wine Tasting, Boat tours, and more (details below)!
The Evenings
The Workshops – On the days of the workshop we will start the workshops around 5 PM until about 7PM
Dinner time  – Dinner time at the villa is often starts anytime between 7 and  8  in the evening depending on the daily activities. Sometimes we have time to go to town for a "passeggiata" in the quaint Castellammare Del Golfo.
Investment
1675 USD  for all 7 Nights stay
Included: the yoga, and the excursions, 14 meals and the airport transfer.
What's included
Airport transfer
All the Yoga and workshops
7 nights accommodation at the Villa Bel Tramonto with access to the private pool
8 breakfasts
4 lunches
3 dinners
All the excursions
And a fun, inspiring experience on a Historic Mediterranean island
What isn't included
Cost of the flight
Some of the meals, this is so you have the choice to go into town, stay and relax by the pool or other local activities
while there are some yoga mats available, the special yoga mat towels, straps, blocks and other yoga equipment consider bringing if you need them
"You're only here for a short visit. Don't hurry. Don't worry. And be sure to smell the flowers along the way."
~Walter Hagen, 1956
Travel is good for the Soul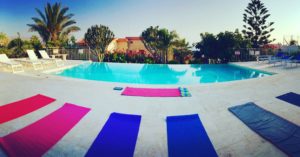 Chronemics is the role of time in communication. It is the reason why we felt 2020 felt interminably long and yet went at warp speed, either way it  has left us marked by a strange year. We have been cooped up for over a year. It's time to get out the door! 
Traveling is such a life enriching experience. Only after this past year can we truely appreciate how much traveling can renew the spirit. It also gives us a chance to slow down time, and smell the flowers – in a good way.  It provides us an empty canvas for new experiences. New perspectives always leads us to new futures!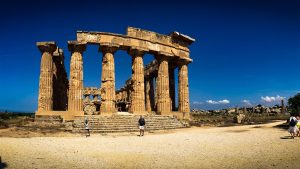 This is the third annual trip to Sicily's famous seaside town Castellamare del Golfo, Sicily.  During the week you will stay in the Villa Bel Tramonto with sweeping views of the sea. Every morning we will start with a yoga & meditation session all week long. We will  enjoy physical wellness, mental growth, gain new experiences and new friends, don't miss out!
Christian and Paola proudly presents a customized itinerary to allow you to discover the many aspects of a  rich culture with Greek, Roman, Moorish, Anatolian, Spanish and Norman influences !  The yoga lessons every morning to help us stay grounded and better enjoy the environment.  We will have 2 custom yoga workshops.
Full Plan
DAY 1 – Private Transfer from Palermo airport to Castellammare del Golfo.
Check in at the Bel Tramonto B&B.   Evening Yin Yoga class before the Welcome Dinner, hosted by Paola (Meal Included: Dinner)
DAY 2 –  We start the day with the Morning Yoga . After Breakfast, enjoy a relaxing walk on the golden sandy beach and swim in the clear turquoise Tyrrenian Sea!!! A rustic barbecue lunch in an Agriturismo will be the highlight of the day. After everyone will be in for a treat going to pick their own grapes by Paola's farm. Late Afternoon Yoga Meditation/yin Workshop.  Return to Castellammare to relax by the poolside or go to town for some gelato! (Meal Included:  B, L)
DAY 3 – Morning Yoga   After breakfast we will depart for Marsala. We will visit the Salt Pans "saline" and then on to visit the Winery of Cantine Firriato. Here we will enjoy a tasting of 4 wines and a typical Sicilian Lunch. Dinner on your own in town, unless you want to join Paola for a "spaghettata alla Norma" (Meal Included:  B, L)
DAY 4 – Morning Yoga – This morning after breakfast we will enjoy swimming in the clear blue waters of Scopello and Lo Zingaro on the mini-cruise Penelope. In the late afternoon we will hota a Custom Yoga workshop after having participated in the pasta making lesson by Paola's Kitchen. Tonight is "Macaroni Feast" (Meal Included:  B, D)
DAY 5 – Morning Yoga – After breakfast we will head toward Cefalù, one of the most beautiful seaside village in Sicily, famous for its Norman Cathedral. On the way back to Castellammare, we will enjoy a special surprise for dinner (Meal Included:  B, D)
DAY 6 – Morning Yoga After breakfast, we will visit a dairy farm in Salemi, to learn about the cheese making process. Lunch at the farm and on to visit the Charming Medieval town of Erice. We will finish the night having Dinner at Il Belvedere (Meal Included: B , L   *Dinner not included)
DAY 7 – Morning Yoga  After breakfast, a visit to the nearby Temple of Segesta is a must. The we will make a stop in Dattilo, a tiny rural fraction of Trapani, to Enjoy one of the best Cannoli of the area. We will return to Castellammare to enjoy some free time by the pool. Our farewell dinner will be a pizza party at "il Gattopardo" (Meal Included:B, D)
DAY 8 –  Morning Yin yoga before you go. After breakfast private transfer to the Airport.
The Yoga
Yoga sessions typically 60, 75 or 90 min depending on the day's activities
All levels welcomed
Yoga Workshops sessions are 2 hours
Yoga styles explored : Bikram, Haṭha, Dharma Yoga, Yin
Breathing and meditation will also be explored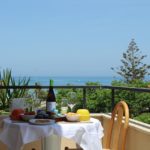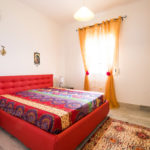 The  apartments are equipped with a small kitchenette, bathrooms and separate bedrooms.  The best is if you come as friends, family or as a couple so you can be assigned a space together.
Though you will not be assigned the same bedroom, you may get assigned into an apartment with several bedrooms.  *special requests can be accommodated if available.
[/cmsms_toggle][cmsms_toggle title="Castellammare Del Golfo."]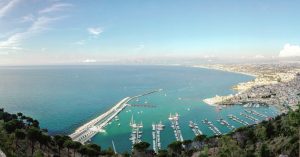 Castellammare del Golfo (Latin: Emporium Segestanorum or Emporium Aegestensium) lays at the foot of Mount Inici, and is a town and municipality in the Trapani Province of Sicily. The name can be translated as "Sea Fortress on the Gulf", stemming from the medieval fortress in the harbor. The nearby body of water conversely takes its name from the town, and is known as Gulf of Castellammare. Even in October you will certainly enjoy beautiful and warm days.
[/cmsms_toggle][cmsms_toggle title="The Food"]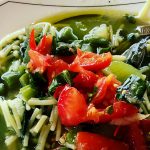 Sicily is famous for its rich cuisine that comes from a tradition of the cultures
around the Mediterranean Sea. It shows traces of all cultures that have existed on the island of Sicily over the last two millennia.[1] Although its cuisine has much in common with Italian cuisine, Sicilian food also has Greek, Spanish, French and Arab influences.[2]
When we are not enjoying the food in the many delicious restaurants, we will get to delight in Paola's Home Sicilian cooking, You will be talking about it for years to come!
* Accommodations can be made for food allergies and diet restrictions.