This is a 5 week course.
This course will take you on a 5-week journey. Prepared to be challenged, learn postural evolutions from the basic expression to its evolved variations. Each week we will focus on a new theme.
We will dive into deeper meditations practices as taught by Dharma Mittra.
The requirements for the course: An open mind! Willingness to practice, the Yama of Ahiṃsā.
What you will get ?
A 75 min private weekly class held on Fridays at 17:30
each class we will explore a new theme
Dharma Mittra's methods of yoga, concentration and meditation.
Dharma Yoga
Dharma Yoga is a graceful, yet challenging form of yoga based on Sri Dharma Mittra's almost 50 years of practice of classical yoga.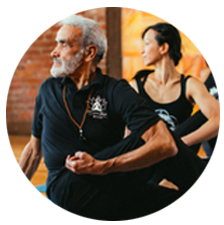 The practice is appropriate for students of all levels, from beginner to lifelong practitioners, and is accessible to so many because it meets each student where they are and according to their condition. As students move through the different series, they are encouraged to go deeper and experience the practice in a meditative and spiritual way. Sri Dharma's passion for helping students go deeper in their practice using only the best and most efficient techniques with the ultimate goal of Self-Realization (gaining absolute knowledge of the "True Self") is reflected in all aspects of the Dharma Yoga system. Christian is E-RYT 200 & Ryt 500 Certified*
Certified to teach the following Levels: Dharma Gentle, Dharma I, Dharma II, Dharma III, Dharma IV, Psychic Development and Nidra classe